Resources and information for managing your business under COVID-19 alert levels.
In Case of COVID – Break Glass!
The Pan Sector Industry Working Group (IWG) was formed in mid-2021 to help prepare and support farmers dealing with COVID-19. The group has been continuing to work on the ever-changing situation and is now encouraging farmers to have an 'On-Farm Survival Kit'.
The IWG includes representatives from B+LNZ, DairyNZ, Deer Industry New Zealand, Federated Farmers, NZPork, Poultry Industry and Egg Producers and RST's, with support from MPI.
Omicron is expected to have a greater spread and subsequent impact in the farming community than previous Covid-19 variants. This compounds the many pressures that farmers, agricultural support services, retailers and processors are experiencing, meaning that planning is more essential than ever.
A good starting point for planning is the on farm COVID-19 checklist, which can be found here. The checklist is designed to get you thinking about what sort of things you need to consider if you or your staff get the virus or become a close contact.
The IWG has been monitoring and engaging with our Australian counterparts on the difficulties they are facing with Omicron. This has identified how important the whole of the supply chain is to farmers. Generally, farmers think of this in immediate terms, such as 'Can my processor take my animals?'. However, Australia has found that a larger impact lies closer to the consumer end of the supply chain, i.e. 'Can the retailer selling my product stock the shelves?' or 'Can the transporter deliver the product?'. When these pieces of the supply chain fail, a ripple effect occurs, which ends up with farmers having to hold over stock for longer periods of time than they would like.
Consequently, the IWG is encouraging farmers to put together an 'On-Farm Survival Kit' that contains equipment or supplies that may be needed if they became inaccessible due to retail or service businesses closing for a period. This includes items like veterinary supplies, stock feed, pipe fittings, fuel etc. - all those things that you use and top-up on a regular basis. If your supplier, or your supplier's supplier have to shut for a period of time, what would you do?
This is not about panic buying, this is about thinking ahead and being prepared for the worst. Work with your suppliers and your processor, and make a plan today.
If you do need some assistance contact the RST on 0800 78 72 54 or the IWG on 0800 FARMING.
Checklist for farmers
PREPARING FOR COVID-19 ON-FARM
It's only a matter of time before a positive case of COVID-19 turns up on-farm. Is your business prepared if one does?
It's important you have a plan to ensure your farm can continue to operate if you, an employee, or a family
member contracts COVID-19. You may be required to leave your property quickly.
Having a plan will help give you peace of mind that others will be able to step in and help.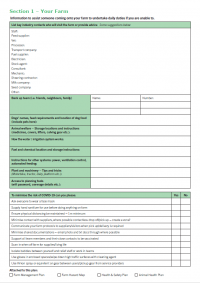 A checklist has been created to help you create a plan in the event you are required to leave your property and are unable to look after your animals, staff and business. The detail contained in your plan is unique to your own property and circumstances to allow family, friends or neighbours to come in and tend to the immediate needs of your livestock.
The plan is broken up into four sections. These are:
Section 1: About your farm – How it works.
Section 2: COVID-19 on farm – the next 14 - 21 days
Section 3: Information to assist the Medical Officer of Health
Section 4: Personal wellbeing
We encourage you to involve your staff (if you have them) and your family with this planning. Please remember, this checklist is not exhaustive and you can add anything that will assist your planning.
Click here (or on the image to the right) to download the checklist >>
Covid-19 Advice from the National Velvetting Standards Body
With yet another variant of Covid-19 now on our shores, the National Velvetting Standards Body (NVSB) has developed the following advice for farmers, in order to limit the risk of transmitting the virus through the supply chain, which could have devastating effects on the entire industry.
If you feel at all unwell, test positive for Covid-19, or are identified as a close contact of someone with Covid-19, then stay away from your animals and any associated product.
Focus on ensuring that only essential farm tasks are undertaken (by someone that is not infected or unwell) and delay any velvet removal until you are completely recovered, or have been given a clean bill of health by the medical authorities.
If velvet removal cannot be delayed due to animal welfare concerns, then approach your veterinarian to remove the velvet for you. A neighbour or someone on the farm who is not infected, will need to muster the stags for the vet and ensure that the velvetting area is thoroughly cleaned before and after velvetting is done.
Advice from the Ministry of Health is that washing with detergent, e.g. hot soapy water, and then keeping the area ventilated for at least an hour afterwards is enough to deactivate any virus that may be present. In addition, anyone coming into contact with the yards/deer shed, must wear a face mask at all times and wash/santitise their hands before and after being in the shed.
If your veterinarian is unable to help, then please contact the NVSB Executive on 04 473 4500 or 027 246 5606. They will assess the situation and try to find a local certified farmer to undertake the procedure on your behalf. Note, this may not be possible in all situations and will only be done as an exceptional circumstance to protect animal welfare, not to ensure product quality.
Please remember that Covid-19 is a serious public health issue and that being able to remain on your farm while unwell may not be possible. Making sure that you, your family and staff are fully vaccinated and having a contingency plan in place will help, but the main aim of quarantine/isolation is to limit the risk of spreading the disease and give those affected the best chance of getting better.
Click here for an on-farm Covid-19 planning sheet that can be used to help you develop a contingency plan and for more information about what will happen if someone on your farm tests positive for the virus, you can watch a short webinar here:
DINZ advice on meetings and events under the traffic light system
Like everybody we are pondering the implementation of the new Covid Traffic Light system and what it means for our staff, and the events we manage. We want to strike the right balance between keeping people safe, protecting families and businesses from the impact of covid, while still allowing as much business to continue as possible.
Firstly – given the risk to human health from covid and the potential for transmission to deer we strongly urge everyone in the deer industry community to get vaccinated. Vaccination is the best means of minimising the risk of contracting the disease, minimizing the risk of transmission and the risk of serious illness.
DINZ Operations under "Traffic Lights"
Deer Industry New Zealand is committed to doing everything we can to keep our people and our industry safe from Covid-19. Vaccination is the best method for limiting the impact of Covid-19.
And so, from December 3, we are requiring all people coming to our office to be fully vaccinated. 
Our staff must be vaccinated to visit or attend offsite events.
For DINZ and DFA run events, we recommend that all attendees are vaccinated.
Attendees who are not vaccinated could attend online.
We will apply the following guidance to DINZ run events depending on 'Traffic light level'.
For every activity, the following must be done:
Health and Safety Plan where necessary
Register of attendees, Trace scanning, QR codes in place
Stay away if feeling unwell or waiting for the results of a covid test


For all DINZ organised activities we will ascertain the vaccination status of invitees prior to the event to determine operations under the different levels.
Where we do not know the vaccination status of all attendees, we will assume that we are less than 100% vaccinated and implement the more restrictive settings.
At all events we will ensure hand sanitiser and face masks are available.
If people become unwell during the event they should immediately self-isolate and seek medical assistance.
Green

Orange

Red

If

100% vaccinated

If unknown

If

100% vaccinated

If unknown

If

100% vaccinated

If unknown

Small indoor meeting

No

l

imits

1m distancing with seated catering

No

l

imits

1m distancing with seated catering

Proceed with spacing

Is it essential? If not do not proceed

Hosted Tour (

e.g.

AP Exchanges, BDT, Young Chefs)

Check host's policies

Check host's policies, 1m distancing, Masks recommended

Check host's policies

Check host's policies, 1m distancing, Masks recommended

Is it essential? If not do not proceed

Do not proceed

On-farm meeting

Check host's policies

Check host's policies, 1m distancing, Masks recommended

Check host's policies

Check host's policies, 1m distancing, Masks recommended

Proceed with spacing

Do not proceed

Large Gathering (Tech Expo, Regional Workshops, Conference)

No

l

imits

<100, 1m, seated catering

No

l

imits

<50, 1m spacing, seated catering, masks recommended

Is it essential? If not do not proceed

Do not proceed
Click here to download a PDF table of "DINZ Operations under Traffic Lights" >>
View the map for the Traffic Light System and more information at covid19.govt.nz/traffic-lights/traffic-lights-map >>
We will be reviewing these policies regularly to ensure we are doing what we should to make events and people safe.
We have also been asked about guidance for non-DINZ organized events. We would strongly encourage everyone involved with the deer industry to take a cautious approach when inviting groups of people to your property or arranging events. Follow the advice from the MOH, and take extra precautions in order to minimize the risks to staff and family.
This could include requiring visitors to take a rapid antigen test before attending.
With stag sales coming up we recommend that event organisers proceed with caution and apply the guidance above.
If the vaccination status of attendees is unknown, at Orange, your event will be limited to less than 50 people, masks are strongly recommended to be warn, with 1 meter spacing between attendees and the post-sale BBQ and beer will have to be put on hold. Other suggested steps include not allowing any attendees to handle velvet on display, or get close to the stags, an antigen test could be an option for visitors to provide those attending with a further degree of protection from exposure to the virus.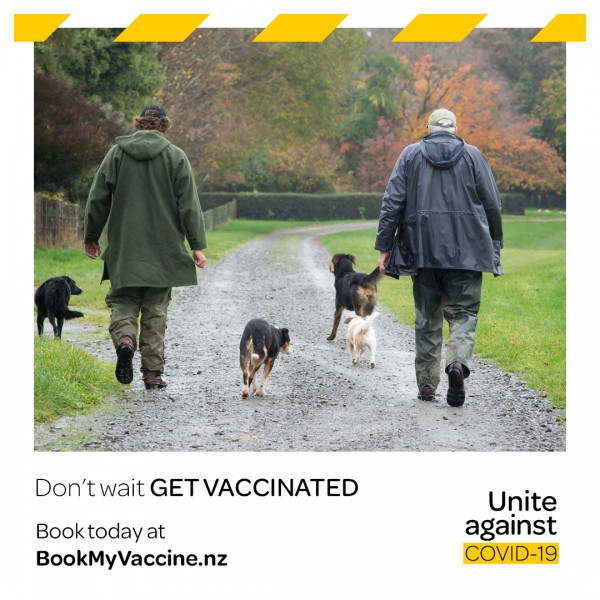 We all have a role to play in getting more people vaccinated. Let's get back to doing the things we love. Everyone aged 12 years and over can get their free COVID-19 vaccination now.
Information for managing your business during COVID-19 levels
Farming and the growing of food, production, transport, processing and sale of food and beverage is recognised as an essential service. This includes the provision of services essential to farmers and growers operating their businesses. If in alert level 4, please don't treat this like a normal day on-farm, activities that can be deferred weeks must be. Please undertake essential jobs only.
COVID-19 (coronavirus) information and advice | COVID-19 (coronavirus) information and advice | NZ Government (mpi.govt.nz)
A interactive PDF map of the rural vaccination sites throughout the country can be viewed and/or downloaded here >>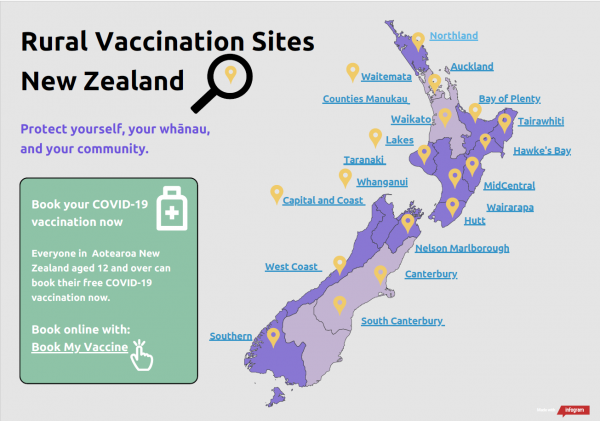 Everyone aged 12 and over can book their free COVID-19 vaccination now. Book online with at bookmyvaccine.covid19.health.nz
If you can't see the PDF, here are the direct links to each DHB region:
COVID-19 Update from Deer Industry New Zealand - August 2021
COVID-19 Update from Deer Industry New Zealand - February 2021
COVID-19 Update from Deer Industry New Zealand - October 2020
COVID-19 Update from Deer Industry New Zealand - 20 Aug 2020
COVID-19 Update from Deer Industry New Zealand - 12 Aug 2020
Information for managing your business under the COVID-19 alert levels
Back to Support services