Oct 15, 2021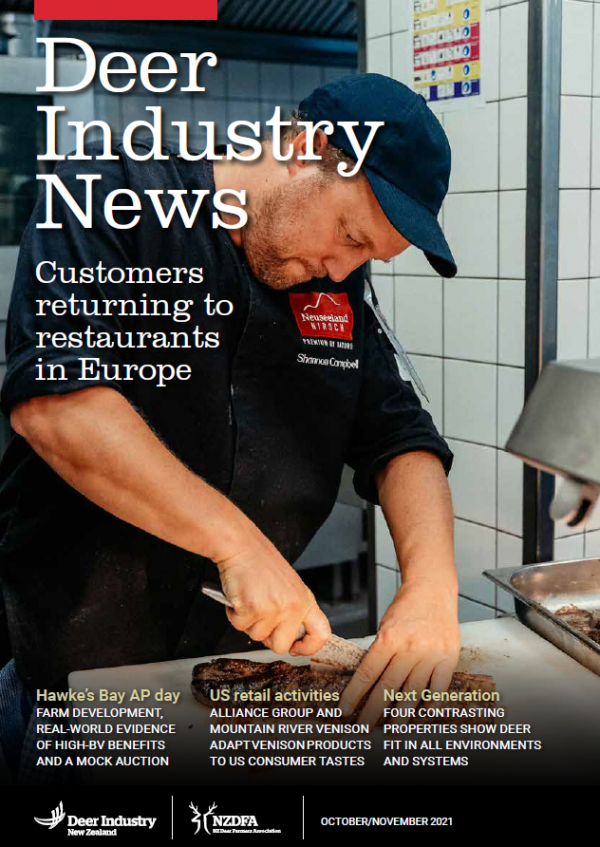 To download a PDF version of the magazine, click here >>
In this issue:
Editorial
NZDFA thoughts on Groundswell protest
Passion2Profit
Hawke's Bay AP day
US potential still to be tapped
Markets
European venison season preview
Cervena project on down low
Kiwi chef welcoming freedoms
Silver Fern's China efforts continue
Velvet signals promising
Welfare
Water, feed and shade reminder
Environment
Overseer: Still a useful tool
People
Former DFA stalwart passes away
Supplied articles
Wilkins liveweight record
Provelco – proudly independent
DINZ News
Lindsay Fung appointed producer manager
Website refresh: www.deernz.org
NZDFA News
Come on down – it's our 40th!
Venison companies positive
Contacts update
Next Generation stays farmside
Animal health
Reports on deformity sought
Cover: Kiwi chef Shannon Campbell has adapted and thrived through the challenges of Covid in Europe and is upbeat about the future as new freedoms emerge.
Click on the icon in the bottom right corner of the magazine preview below to view in full screen.
Back to Industry News