If you are looking to work in the deer industry, or are wanting to up-skill yourself in deer handling and farm systems some of the information below may assist you with finding the right course or role for you.
Looking for a career in the deer industry?
A number of websites are useful when looking for rural careers -on farm or in the agribusiness sector.

Here are a few options available when searching for current vacancies:
Interested in working for Deer Industry New Zealand? Send enquiries to info@deernz.org
Are you a deer farmer looking for staff? Email your adverts to info@deernz.org
Considering undertaking deer specific training?

Deer Industry New Zealand works closely with Primary ITO to offer deer courses for those that are interested in up-skilling themselves in deer farming.
Keen to study and know more about deer? Get on qualified on the job! Livestock husbandry, feeding, breeding and more! Primary ITO are offering FREE* apprenticeships and training!
Full information can be found on the Primary ITO website page, including FAQ's >>
*Conditions apply.
Primary ITO - The New Zealand Diploma in Agribusiness Management now included in Free Trades Training
Recently the TEC recognised the Diploma in Agribusiness Management as part of their Free Trades Training Fund. This means that anyone enrolling in the Diploma, from July 2020 until December 2022 will have their fees covered by the Government.
Primary ITO are taking registrations of interest for courses starting in February 2021.
Please call 0800 20 80 20 or for more information/dates/locations www.primaryitodiploma.co.nz
Please note: If you are a current student, please contact your local Polytechnic regarding any refunds that may be available as fees are covered from July 2020.

To view roles in the industry and contact details for Tranining Advisors, click here >>
Despite the challenges we all face, Primary ITO are continuing to support farmers with new ways to learn. By working with your Primary ITO Training Adviser from afar, they can proceed with:
enrolling learners into new programmes
assessing and recognising learning
providing training resources.
Google Classroom platforms have recently been set up to enable agricultural learners to progress with their training programmes over this time. These are accompanied by a virtual 90 minute session via the likes of ZOOM.
If you have any questions, please call your Primary ITO Training Adviser directly, or call 0800 20 80 20 to be transferred.
The current course being offered is:
New Zealand Certificate in Agriculture (Livestock Husbandry) (Deer) (Level 3).
This programme is reommended for people with some experience (1-2) years in the sheep, deer or beef industries. Junior and intermediate, or Shepherd General.
This is a comprehensive husbandry programme where you'll learn skills involved in the complete livestock lifecycle (with strands in sheep, or beef, or deer). From understanding the reproductive process to birth, weaning, selection and through to sale – you'll be involved in every aspect of the process.
You'll also dig deeper into the anatomy and physiology, protecting and treating stock to maintain peak health.
Topics covered:
Understand livestock reproductive processes and practices.
Assist with key on-farm tasks associated with mating and mating management.
Assist with key on-farm tasks associated with lambing, calving or fawning.
Understand the principles of livestock selection and culling.
Understand livestock anatomy, physiology and behaviour.
Assist with recognition and treatment of relevant livestock health issues.
Assist with implementation of prevention livestock health programmes.
Understand biosecurity issues relating to livestock.
Assist with rearing of lambs, calves or fawns from birth until weaning or sale.
COST: $1,061.46
The programme is run over 12 months with four 2-day blocks. To find out more information, contact your local Training Adviser >>
Testimonials
Hannah Andrew – Landcorp (Pamu) Mararoa
"Since starting the course 12th June 2018 I have learned about the reproductive system, AI mating, some health signs to look for during conception and from only being in the industry less than a year it really has helped me to open my eyes and go more in depth with dee and see what would benefit my farm".
Luke Clucas – Raincliff Station
"From first two sessions I have learnt a lot about the reproductive cycle of deer and a bit more about their gene's. liked going out to Deer Genetics to have a look through their shed and having a look at the systems they use to record all their info on their stags and hinds"
Upcoming events and deer courses will be posted to the events page here >>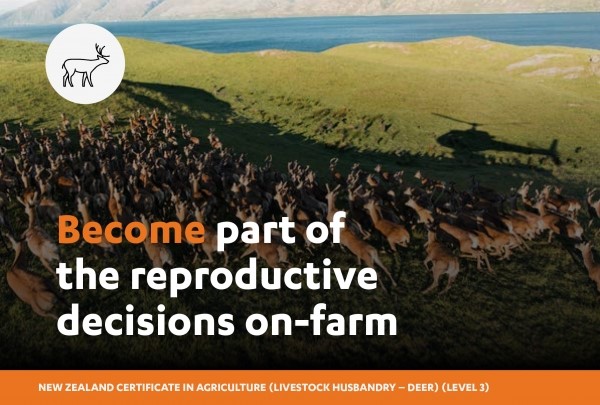 Back to Deer Industry New Zealand