Feb 16, 2022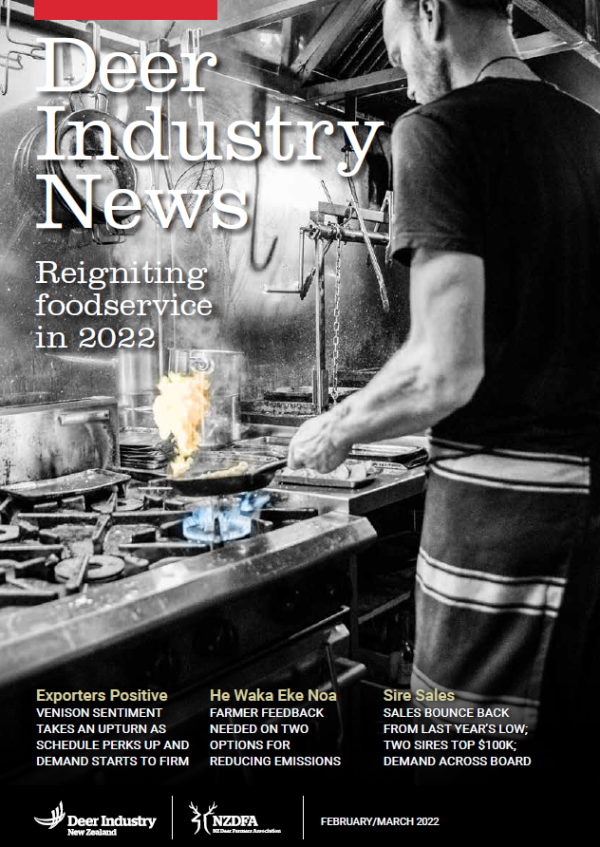 In this issue:
Editorial
Patience paying off as venison rebounds - John Sadler, Director, Mountain River Venison Ltd
Markets
Exporters positive, committed
Strong velvet demand continues
Passion2Profit
Boosting US venison "brick" sales
Facilitators sharpen skills
DINZ News
Connections with Korean OMDs
Conference contingencies
Covid-19: Are you prepared?
Matt Carroll new Board observer
Animal Health
Bloat statement questioned
Velvet
Getting steamy in Oamaru
Velvet gallery
Supplied articles
Financial sustainability
Not all sires are equal
Keeping it real
People
Deer connections among nominees
Deer writer co-authors history
Environment
Can we measure and mitigate?
He Waka Eke Noa response due
Science4Success
Deer Select makeover
Farm Systems
Regen agriculture: Who's on board?
Recipe
Venison flatbread pizza
Quality Assurance
NZFAP Plus
Sire Sales
Bouncing back
Cover: The year is starting with positive signs of recovery for the foodservice sector in our main venison markets.
Click on the icon in the bottom right corner of the magazine preview below to view in full screen.
Back to Industry News