Dec 16, 2021
New environmental stewardship manager: Sara Elmes, the new environmental stewardship manager for DINZ, starts work on 17 December. She replaces Lindsay Fung who is now the DINZ producer manager.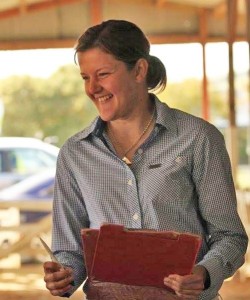 Elmes (pictured) has a Masters in Animal Science from Massey University and has previously worked with Dr Geoff Asher and Jamie Ward at AgResearch Invermay on deer genetics. She also has connections with many deer farmers through her current position at Ballance Agri-Nutrients and regularly attends deer industry conferences and activities in her region.
Welcoming her into the role, DINZ chief executive Innes Moffat says Elmes will work with individual deer farmers, the NZDFA and the DINZ farm performance manager Phil McKenzie. Her areas of focus will mainly be the freshwater quality, indigenous biodiversity, soil health, biological greenhouse gas emissions and climate change adaptation.
"With her understanding of deer farming and deer farmers, together with her science background and strength and expertise in environmental management, she will provide a clear and practical voice for deer farmers to be able to operate profitably while effectively managing their environmental footprint."
VelTrak: thank you: The launch of VelTrak, the new electronic track and trace system for velvet has gone well, thanks to the efforts of everyone involved. But velvet buyers and agents are due a special thank you, says DINZ QA manager Rob Gregory. They had not only to invest in the Zebra scanners, they also had to make major changes to the way they operate.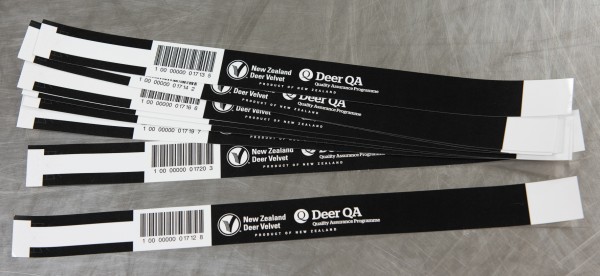 "It was a big ask, but they have made it through the peak of the season. Thanks so much, especially to those who experienced technical issues along the way. Most new IT systems have teething issues that don't emerge until they go live – VelTrak was no exception, but the system itself performed well and is working the way it should. Indeed, we've had a number of buyers tell us that it's a big improvement on the old paper-based system."

Some issues that were identified early in the season have been remedied. Other refinements are being worked on and will be fixed well before the start of next season. Among these is finding a better adhesive for the tags, which fails under some circumstances. The area of adhesive on the 2022/23 tags will be also increased, to make it easier for the two ends to be married to each other.

"Trials of different adhesives will begin shortly," says Gregory. "It's quite a technical challenge. The formulation needs to keep the tag tamper-proof and secure while being frozen to minus 20 deg C as well as being boiled and dried during processing."
Greenhouse gas consult coming: In February, DINZ will be consulting with deer farmers and others in the industry about the industry's response to a document from He Waka Eke Noa (HWEN) on options for pricing farm greenhouse gases (GHGs). At this stage all three HWEN options appear to be bad news for deer farming.
"As there are no 'silver bullet' technologies for reducing methane and nitrous oxide emissions under New Zealand's pastoral farming systems, a price on farm GHG emissions will simply be a new tax," says DINZ chief executive Innes Moffat.
"There is clearly a climate crisis being caused by increased levels of GHGs in the atmosphere as a result of human activity. As producers of healthy high quality proteins for discerning international markets we obviously should play our part in reducing emissions.
"But we need to keep this in proportion. Climate change is principally being driven by the burning of fossil fuels and the destruction of rain forests in the tropics.
"In the absence of technologies that farmers can adopt to reduce their emissions of methane and nitrous oxide, it's unclear what a carbon price on venison and velvet will achieve. What's its purpose? What's the end game?
"Surely we should be focussing on incentives for farmers to reduce carbon emissions, protect their soils, reduce nitrogen discharges and protect biodiversity, as part of a wider sustainability package."
On 30 November Moffat sent all deer farmers an email explaining the background to the document. This followed feedback from two farmer reference groups and discussions at meetings of the NZDFA executive committee and DINZ board.
Moffat says the board has agreed that expert advice be sought on the implications of the HWEN options for deer farming. This advice will be informed by an AgFirst study into the implications of the pricing options on four case study deer farms, due out in January.
"The aim is to have a solid bank of information to inform debate when we start consulting in February. The context for that debate is that deer farming will be one of the industries hardest hit by the pricing options currently being discussed," he says.
"That's a great irony, considering that most of our deer are raised in low-input extensive farming systems, in which farmers have very little ability to reduce the use of fertiliser or imported feed as a way to reduce their GHG emissions."
Big BERSA might help us: If livestock farmers are to play their part in reducing GHG emissions, some technical fixes need to be developed urgently. This is the focus of a research and development plan being developed by a high-powered group drawn from government, iwi, research organisations and the big producer groups, known as BERSA (Biological Emissions Research Strategy Group).

In the meantime, the Pastoral Greenhouse Gas Research Consortium which was set-up in 2003 is being wound up, having identified potential areas for future GHG mitigation research. DINZ will continue to help fund two of these research areas – an anti-methane vaccine for ruminants and methane inhibitors for pastoral livestock. Both target opportunistic rumen bacteria known as methanogens. These bugs appear to be the ultimate free-loaders. They feed on rumen contents and produce methane without providing any benefit to their host.

BERSA is expected to release its R&D plan for comment shortly. The aim of the plan will be to accelerate the development and application of new technologies that farmers can use to reduce their methane and nitrous oxide emissions.

DINZ former environmental stewardship manager Lindsay Fung says most GHGs remain in the atmosphere indefinitely. In contrast, methane degrades quite rapidly. "If we can significantly reduce methane emissions – from ruminants, as well as industry and landfills – it will have a cooling effect on the climate."
Revised TB Deer Fact: The 'Tuberculosis' Deer Fact has been updated and is enclosed in the December issue of Deer Industry News, due in the mail shortly.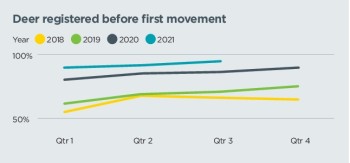 The update reflects the many changes in the TBfree programme since the Deer Fact was first published in 2015. In the same period there has been a big improvement in farmer compliance with rules applying to animal traceability. For example, more than 90% of deer farmers now tag and register their animals with NAIT before they move off farm for the first time – up from around 70% two years ago. This is a great result. Improved traceability is one of the many measures that's bringing us much closer to eradicating TB from our deer and cattle.
After reading the revised Deer Fact, subscribers are encouraged to file it in the deer health section of their Deer Fact ring binder. The old version should be discarded.
Matt Carroll selected as board observer: The 2022 DINZ board observer is Matt Carroll, a Manawatu deer farmer.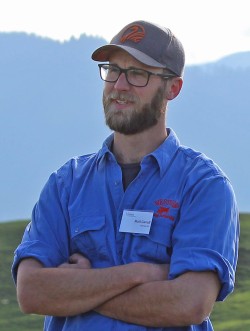 The observer role was initiated in 2020 for someone with an interest in taking a leadership role in the deer industry. The observer participates fully in DINZ board discussions and is provided with personal and professional development assistance.
Carroll (pictured) has farm management and agribusiness qualifications from Lincoln and Massey Universities; worked for a farm management consultancy in Rotorua for three years; spend a year working on a deer farm in Scotland; and is now assistant manager of Westview Farms, Manawatu. As the facilitator of the Central North Island Advance Party he has been involved in several DINZ activities, including discussions leading to the establishment of Deer Industry Environmental Groups.
Carroll is the chair of the Pohangina Catchment Care Group and is a committee member of the Central Regions NZDFA and the Manawatu River Catchments Collective. He is currently doing the Kellogg Rural Leadership Programme.
P2P Mk II moving along: For the past seven years, the Passion2Profit programme – jointly funded by DINZ and the Ministry for Primary Industries – has transformed many of the ways in which the deer industry operates.
On the farm it has brought us Advance Parties, Deer Industry Environmental Groups, Regional Workshops, Rural Professionals Workshops, Deer Facts and Deer Growth Charts. In the marketplace it has created a handy niche for venison grill cuts in the northern hemisphere summer, has helped develop China as a major venison market and – in the last 12 months – has helped put our venison into thousands of supermarkets across the United States.
When the programme comes to an end in September, DINZ farm performance manager Phil McKenzie expects to have a replacement programme in place. Its name has yet to be decided, but P3P – People, Planet, Profit – is on the table. That reflects the need to help more farmers along the path to greater sustainability. Markets expect it; regulators demand it; and that's where government co-funding is most likely to be found.
"We want to make things as seamless as possible for farmers who are already happy with their Advance Party. But we want to involve more farmers than we have to date – say, 50% of farms running about 60% of our deer, up from 30% of farms running 40% of deer at present."
As before, the aim is to have farmer-led groups driving the day to day activities. However there will be an important change in emphasis. In the early days of P2P the focus was on farmers making changes to their farm systems because they were desirable. Now, because of pressure from markets and regulators, changes are becoming necessary.
"Even so, farmers will find the best solutions to the challenges they face from other farmers. That won't change. DINZ can provide expert advice to farmer groups if it is needed, but the practical on-the-ground answers come from their peers. Hence our wish to get as many farmers involved as possible," McKenzie says.
Landscape feeds into water quality story: It turns out the quality of water flowing off your farm isn't entirely driven by your farming activities – the landscape has a big say in the story as well.
LandscapeDNA is an online tool launched by Invercargill-based environmental consultancy Land & Water Science, with funding from MPI and other partners including DINZ. Members of the Southland Environmental Advance Party were involved in the early design of the interactive website, which allows users to peel back the geographic layers and explore their region right down to individual property level. One member, Bruce Allan, has already used it as part of his farm environment plan (FEP).
The site reveals the role that different physiographic environments play in contributing to various water quality contaminants. Beyond that, it helps users to identify the risks, interventions and mitigations associated with a particular landscape and soil type. For example, a map can show the impact of artificial drainage on the ability of a soil to remove nitrate nitrogen naturally.
As more deer farmers work on their FEPs, LandscapeDNA will be a useful addition to the toolbox, giving a more complete picture of what's in the water flowing off a property and why. For more info, go to www.landscapedna.org
What's the oldest deer in New Zealand? Long-time Scottish deer farmer and friend of our industry, Dr John Fletcher, has asked us the age of the oldest farmed hind in New Zealand.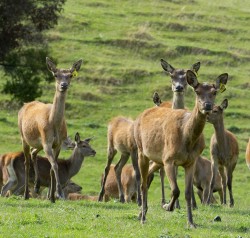 According to the Guinness Book of Records, the oldest deer ever recorded was Bambi, a hand-reared Scottish red deer owned by the Fraser family, Kiltarlity, Scotland. Bambi was born on 8 June 1963 and died on 20 January 1995 at the age of 31 years 226 days. By comparison deer in the wild, once they've survived the hazards facing them during their time as fawns, usually live for 10–20 years.
In an email to Tony Pearse, Fletcher says he has a hind on his Auchtermuchty farm that is over 28 years old. "She was bottled raised from wild stock on the Isle of Rum and we have had her since she was a calf. She has had many calves but I haven't bred her for about eight or ten years. I remember being shown one at Papamoa in 1979 which Peter Elworthy thought was 30."
If you have a hind that's older than John Fletcher's animal – or better still, older than the Guinness world record – send a photo and a brief bio to Phil Stewart, editor, Deer Industry News, phil@wordpict.co.nz. We can't allow the Scots to keep winning these longevity records.
DINZ holiday shut-down: The DINZ and NZDFA office in Wellington will be closed from midday on 24 December 2021 and reopen on 5 January 2022.
In the meantime, the DINZ board and staff wish all our readers a merry Christmas and a very happy New Year. Thank you for your support and friendship in 2021.
Back to Industry News