Feb 17, 2023
All parts of the deer industry are discussing the new Deer Industry NZ (DINZ) strategy to guide the industry board's work over the coming five years. Deer farmers, especially, are being urged to have their say.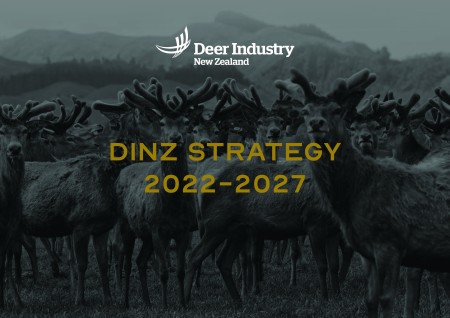 Put together by the DINZ board, the new 'Thrive with Passion' strategy has an ambitious vision to shape the deer industry for a changing world over the next five years, DINZ chair Mandy Bell and chief executive Innes Moffat have been telling industry groups around the country.
The strategy prioritises five strategic initiatives which DINZ will deliver. These are to:
Increase venison returns by focusing on creating new demand in North America and adding value to co-products
Increase demand for velvet by supporting healthy food marketing in Asia
Ensure the best welfare for deer
Support and connect a thriving deer industry community
Invest in the best innovation and knowledge to support a profitable industry


"DINZ also needs to continue to address the range of deer specific issues facing producers by delivering a portfolio of industry services that underpin a thriving and growing deer industry," notes Moffat.
The executive is now working on the delivery of the priority projects, including sourcing third-party funding and establishing the clear success measures to report to levy payers.
DINZ is also currently reviewing its services to confirm the best use of resources. The operational plan will be delivered in April, including any changes to how DINZ works with stakeholders.
What's happening:
The Board is expecting to deliver an operational plan with KPIs and an operating budget in April
An external manager has been engaged to help the team deliver what it needs to the Board and to manage any change deemed necessary to ensure a fit-for-purpose DINZ
DINZ staff and directors are seeking the input of farmers and key stakeholders as the details of the operational plan are developed to ensure voices are heard and priorities addressed.
"The strategy document is a high-level overview of the priority areas of focus for the industry," notes Moffat. The work that DINZ will do to help achieve the goals is being developed, he adds.
Bell and Moffat met with the NZ Deer Farmers Association (DFA) National Executive in Invercargill before Christmas as part of the consultation process.
DINZ staff and directors have since spoken with DFA's Canterbury, West Coast and South Canterbury and North Otago branches and members of the Elk & Wapiti Society. They have also held a series of kitchen table sessions with about 60 deer farmers across the South to get feedback and will soon be talking directly with North Island farmers too.
Call for feedback
Moffat is calling for feedback from industry.
"Let us know what your priorities for the industry are over the medium- and long-term. Let us know what you think of the strategy – what we have got right, what needs more work," he says.
"We'll be speaking to many more deer farmers over the coming months, but you can send your thoughts through to info@deernz.org to make sure we hear your views."
Read the summary DINZ Strategy 2022-2027 Thrive with Passion>>
Send feedback on 'Thrive with Passion' to info@deernz.org
Back to Industry News