Feb 17, 2023
Strong interest from visiting European buyers signals further improvement in venison prices in 2023. Venison marketing companies are hosting buyers from Europe and the USA, some visiting for the first time in three years, to plan deliveries and promotions for the coming year.
With a strong game season in 2022 most European importers are buying confidently, aware that venison production is likely to be constrained this year. Overall, the markets are painting a continued improving picture for 2023, believes DINZ venison marketing manager Nick Taylor.
Exports to the USA topped 4,000 tonnes in 2022, accounting for a third of exports. China rose to number two position, taking nearly 20 percent, and Germany ranked third, taking 15 percent directly. Other European customers imported 30 percent of New Zealand venison exports.
"Our aim is to have a diversified market base, with balance across different markets and different sectors," he says.
The new DINZ work strategy focuses resources on supporting the work the five venison marketing companies are doing to accelerate sales of venison through supermarkets in the USA, he notes.
"This provides balance to other valuable markets as we look to break with the reliance on frozen commodity trade."
Silver Fern Farms has already reported a positive EU game season to its suppliers and is seeing an early pick up in frozen volume from its European customers.
"All venison companies are acutely aware of the need to get the venison schedule up, we have put the costs of production in front of them and they are confident of achieving price increases this year, notwithstanding the significant uncertainty in Europe with the continuing war in Ukraine and increases in energy prices," he says.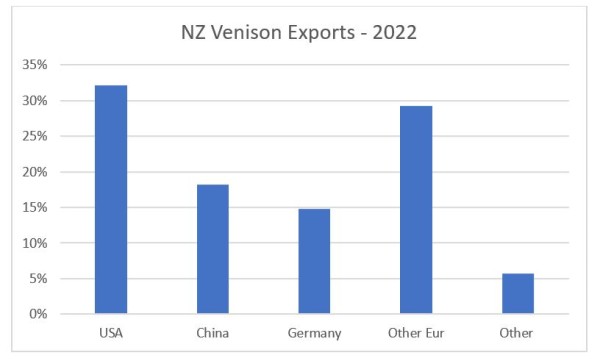 DINZ understands 2022 spring contracts peaked in the low to mid- $9.00s with strong forward orders for frozen venison, and improving market sentiment, higher prices for Spring 2023 seem imminent. Farmers should talk to their respective buyers for updates.
Shipping problems continue to ease and while the market for venison meal and co-products has not reached the highs of 2018, demand is solid. Market conditions in China are improving, as business open and more people travel following the spikes in Covid infections the country has experienced, reports Taylor.
Silver Fern Farm's GM sales Peter Robinson says "Exporters are seeing signs of market improvement as the global financial squeeze seems to have had less impact to date. If these conditions remain, we should see an improvement in pricing in the year ahead. Farmers should talk to their respective livestock reps for on-going updates."
Back to Industry News