Sep 29, 2021
Dr Lindsay Fung has been appointed producer manager at Deer Industry NZ (DINZ). He is currently the organisation's environmental stewardship manager.
In his new role he will work closely with the New Zealand Deer Farmers Association (NZDFA), filling a position similar to that of a general manager. Within the executive team at DINZ – an organisation that represents deer farming, processing and marketing interests – he will provide a producer's perspective on industry issues.
DINZ chief executive Innes Moffat says Fung has demonstrated his ability to represent deer farmers' interests with regional and central government.
"By building stronger links between local NZDFA branches and regional government he's shown that by giving voice to farmer interests, it is possible to make a significant difference to proposed regulations so they are workable for farmers, while still enhancing the environment," Moffat says.
"Advocacy on behalf of deer farmers is becoming increasingly important as societal expectations of land users continue to grow."

Fung, who starts his new role on 15 October, will be tasked with representing producers' interests across a wider portfolio of farm issues and working with his DINZ colleagues on policy and productivity matters. This includes providing farmer input into research projects as well as representing deer farming interests with a wide range of external agencies including MPI, Worksafe and OSPRI.
Lindsay originally worked for DINZ as science manager from 2006 to 2010. After a short period with Horticulture NZ he rejoined DINZ in 2014 and since then has been focused on environmental policy and stewardship.
He replaces Tony Pearse who is retiring after a making a lifetime contribution to the deer farming industry, initially as an Invermay scientist and in recent decades as producer manager at DINZ.
Moffat says DINZ will now be advertising for a new environmental stewardship manager to replace Fung in his current role. See the job description here: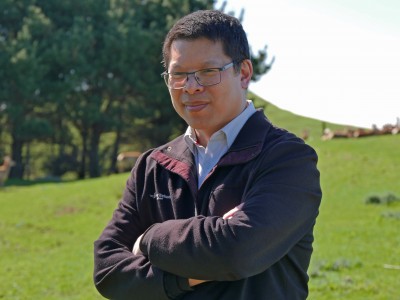 Back to Industry News