Apr 21, 2022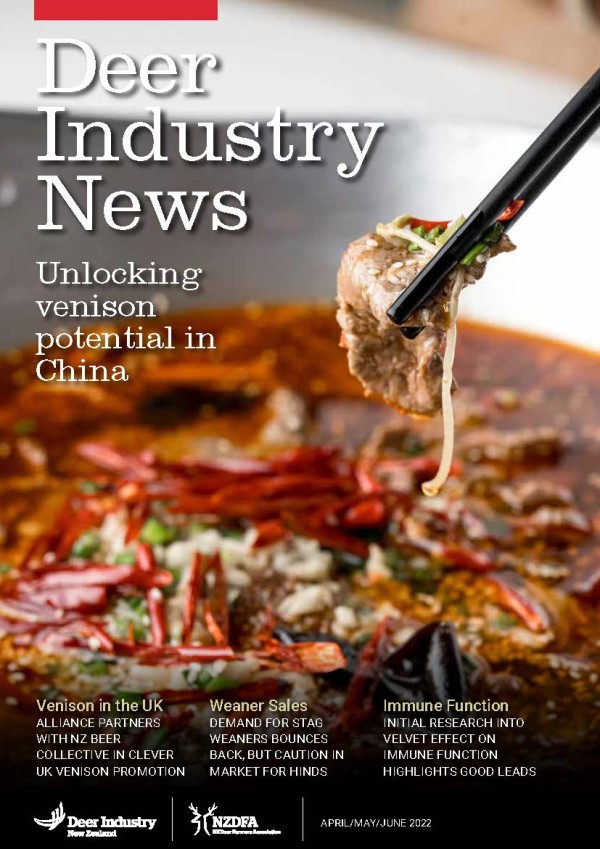 In this issue:
Editorial
Unfair emissions burden on extensive farms
Markets
Demystifying the Chinese consumer
Velvet value well up on last season
Logistical hurdles but exporters confident
Venison tenderloin sells out fast in US
Venison marketer overcoming UK sales barriers
Weaner sales: two distinct markets
DINZ News
DINZ road trip
Photo competition – be quick!
Environment
HWEN: What's our least bad option?
Recycling our wrapper
Science4Success
Celebrating 50 years of science
Immune function research
Looking for lungworm
NZDFA News
Constitutional matters
Farm systems
Regenerative agriculture
What about deer?
Recipe
Venison nachos
Cover: This is fire water boiled venison, cooked in the spicy Sichuan style of southwest China. It's one of dozens of new venison recipes developed to suit Chinese tastes. See page 4 on the work being done to better understand Chinese consumers and get venison on their menus.

Click on the icon in the bottom right corner of the magazine preview below to view in full screen.
Back to Industry News