Nov 18, 2021
Interested in becoming a board observer?
The DINZ board is offering any stakeholder in the deer industry the opportunity to join the board in an observer capacity for 12 months.
The role was initiated in 2020 for someone with an interest in taking a leadership role in the deer industry. They are helped with their personal and professional development and are given the opportunity to attend training at the Institute of Directors at DINZ expense. They are expected to fully participate in DINZ board discussions, so need to be sufficiently experienced in their professional capacity in order to do this.
The successful candidate will be selected by a committee made up of two DINZ board members and a member of the NZDFA Selection and Appointment Panel. The first appointee was Rob Kidd, operations manager for Duncan NZ. Central Otago large animal vet Amy Watts currently holds the position.
Interested? You have until 30 November to apply. For more information >>
Full steam ahead on the farm
Pastures are bolting away, hinds are popping out fawns and velvetting is in full swing. It's all happening on deer farms.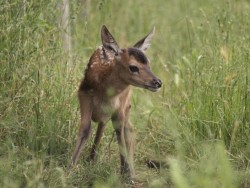 Outgoing DINZ producer manager Tony Pearse emphasises the importance of feeding lactating and replacement hinds well at this time of the year. "To maximise fawn growth, the feed offered to lactating hinds needs to be as green and leafy as possible, with high clover or other legume content a bonus. And I know this is a challenge on many farms as the days get warmer."
Rising 2-year old hinds also have a strong claim for their share of the quality feed available. "If you're aiming for a 95% conception rate, R2 hinds need to be at least 85% of their mature weight – ideally 90% – when they go to the stag." He suggests farmers check the Growth Curves for Replacement Hinds chart on the Deer Hub to see how they are tracking.
When the fawns get a little older, Pearse says it pays for farmers in warmer districts to keep a look-out for cattle tick infestations, which can be fatal for fawns. Thanks to climate change and the interisland movement of livestock, the tick zone is spreading. Ticks can't be eradicated, but insecticide-impregnated ear tags and strategic pasture management are effective ways to keep them under control.
Study aims to unpick the chemistry of deer grazing behaviour
A new research project aims to uncover what happens at a biochemical level when deer are grazing different pastures. An AgResearch/Lincoln University collaboration, the study will compare the responses of deer grazing multispecies pastures, with those grazing traditional ryegrass-white clover pastures.
The technique being used is metabolomics, a relatively new discipline for agricultural scientists but one that's now routinely used in biomedical research. It involves the study of the metabolome – the complete set of small-molecule chemicals found within a biological sample, such as a cell, a tissue extract, a bio-fluid or an entire organism.
The thousands of compounds involved – including amino acids, organic acids, nucleic acids, fatty acids, amines, sugars, vitamins, pigments, drugs, environmental contaminants and toxins – reflects the interaction between an organism's genome and its environment.
DINZ science and policy manager Emil Murphy says the metabolomics of sheep and cattle are now being extensively studied, so it's in the interests of the deer industry to get an understanding of the metabolomics of deer.
"As a side benefit of this research we may get some information about benefits of grazing diverse pastures that has a farming application, but this is mainly about building fundamental scientific knowledge. If further metabolomic research in sheep and cattle shows production, health or welfare benefits from different diets or grazing practices, we will be well-positioned to explore whether the findings have possible applications for deer."
VelTrak VSD - don't say 'No' if you don't mean it
DINZ QA general manager Rob Gregory is flagging up to farmers that if they click 'No' to the questions on their Velvet Status Declarations, their velvet will not be able to enter the human food chain.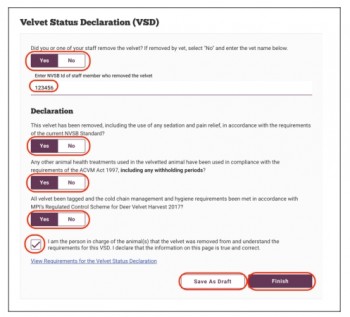 "The VSD that accompanies each consignment of velvet leaving a farm is exactly the same as the former paper-based system. The only change is that the VSD is now completed electronically in VelTrak," Gregory says.
"If you click 'No' to the questions about velvet removal on the VSD you will get a warning message saying that if you proceed then the velvet will not be eligible for human consumption. If this occurs and of you have clicked 'No' in error, please click 'Cancel' in the warning box and double-check your answers, before selecting 'Finish'. Once you have clicked 'Finish', the VSD cannot be changed."
Of course, there may be a genuine for clicking 'No'. The deer may have been velvetted inside the withholding period for a veterinary drug. Or a freezer may have malfunctioned and the cold chain broken. But in the few cases where a farmer has clicked 'No' this season it has simply been an error.
Gregory says the VSD is a legal document, so needs to be taken seriously. But the process of completing them is fairly self-explanatory. For details see p 12 of the VelTrak Farmer User Guide.
"Finally, a VSD is generated by the buyer or receiver of each consignment of velvet that leaves a farm. Each of these VSDs needs to be approved promptly so the velvet can move along the chain to export or to the processor," he says. He urges farmers to check their emails and VelTrak account regularly, to avoid delaying buyers and processors at this busy time of year.
Keeping nasties outside the gate
Biosecurity is a deeply unsexy topic. At least it was for cattle farmers until some of them got Mycoplasma bovis in their herds. Or for the unfortunate farmers who have been infected by leptospirosis.

To help deer farmers manage biosecurity, DINZ has teamed up with other farming organisations to develop a Biosecurity Planner. It's a handy checklist that fits on two sides of A4. It's available as an interactive PDF – in other words, you can complete it on-line and save it to your computer.
DINZ science and policy manager Emil Murphy says it's a good companion document for the Dry Stock Biosecurity Guidelines which provide excellent advice on animal biosecurity. For advice on the management of invasive pasture and crop weeds, contact your regional council.
"We know our farmers are up to their ears in business plans, environmental plans, health & safety plans – you name it. But we wouldn't be doing our job if we didn't advise them to set some time aside to make sure they also protect their businesses from biosecurity risks that are very real," says Murphy.
Covid spreading among white-tailed deer in the US
Scientists have discovered that up to 80 per cent of white-tailed deer in Iowa, USA, may be infected with Covid-19. Researchers who examined the lymph nodes from hundreds of dead deer between April 2020 and January 2021 say it's likely that the virus was spreading among the deer, The New York Times reported.
Previous studies have found a number of species can be infected by SARS-CoV-2, the virus that causes Covid-19. Some of these were intentionally infected in lab experiments, some zoo animals caught the virus from their handlers, and captive mink have been sickened after being exposed to the pathogen by farm workers.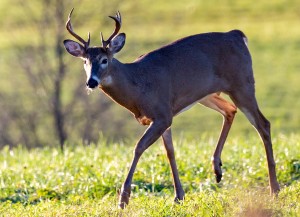 There's no evidence of deer-to-human transmission. Nor is there any evidence that SARS-CoV-2 can infect red deer, wapiti/elk or fallow, the species farmed in New Zealand. DINZ is continuing to stay in touch with research teams in the US as well as the UK, where it understands that investigations are underway, looking at the susceptibility of a range of animal species – farmed and wild – to the virus.
In the meantime, DINZ chief executive Innes Moffat urges all deer farmers and staff to get double-vaccinated and practise good hygiene in the deer shed. "This is not only the best means of keeping yourself and your family safe from Covid, but it may also be prudent to keep the disease out of your livestock as well," he says.
Back to Industry News