Feb 17, 2022
Velvet season closes on a strong note: As velvet farmers will know, the 2021/22 season has been a positive one in terms of farm gate prices. DINZ markets manager Rhys Griffith says prices continued to firm as the season progressed, with prices for Chinese grades ending the season on a particularly strong note.
Spare a thought then for exporters and processors, for whom shipping has been something of a nightmare. Obtaining containers and keeping staff free of Covid has been a concern, exacerbated by the Covid-related closure of Dalian port for several weeks at the height of the season. Dalian is the gateway to our biggest velvet market – the only port in China that's currently able to handle imports of deer velvet.
Griffiths says most of the Korean grades have now been dried and shipped, along with a large proportion of the spiker and regrowth destined for consumption in China.
KGC creates a real buzz for NZ velvet-based products in Taiwan: The velvet industry's largest healthy food partner, Korea Ginseng Corp (KGC), has ramped up its promotions of velvet-based products in Taiwan, a new market for velvet health foods.
Rhys Griffiths says KGC has used important social media influencers like Taiwanese singer-actress Emma Wu to endorse their new velvet based pouch product, Cheon Nok Yu Fang. Its launch follows the successful launch of KGC's velvet-based Cheon Nok Everytime stick in Taiwan last year.
"What's particularly pleasing is that many of KGC's promotions – along with those of other companies – feature the NZ origin of the velvet," says Griffiths.
"KGC recommended the new product as the perfect Chinese New Year gift for the elderly. They also claim it will be helpful for anyone needing a boost – such as people doing heavy exercise like mountain climbing or running, and people feeling run down from overwork."
Further abroad, in New York, KGC has opened a Ginseng Museum Café concept store. The store provides an opportunity to educate New Yorkers to red ginseng and showcases NZ velvet-based products, including Cheon Nok.
Helping deer farmers survive the regulatory machine: Sara Elmes is the new DINZ environmental policy manager. It's a role that bridges the gap between the farm and Wellington's Featherston Street.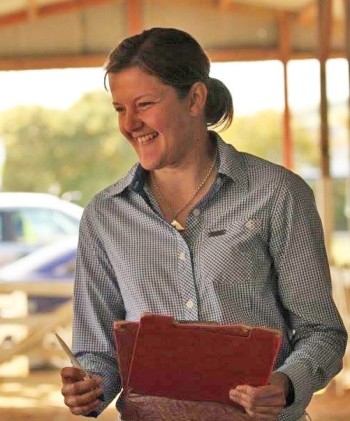 She jokes that she's having to learn how to wear skirts and heels to work, instead of the usual jeans and farm boots. She's also been gently ribbed by her colleagues at DINZ that she will soon become a "policy wonk". But given that she's based in Wanaka and loves nothing better than getting out into the paddock, there's not much chance of that.
One of her major areas of focus at present is the Natural Knowledge Project, which will see farm environment plans delivered to about 170 deer farms along with the collection of production and environmental data. The other is He Waka Eke Noa and what its proposals mean for deer farmers.
She says the two projects go together, because the data from the Natural Knowledge Project helps farmers understand sources of greenhouse gas emissions, and the data will tell government officials exactly how new policies are likely to impact on different classes of farmers. "If they propose, say, a carbon tax on urea, we will be arguing our corners using real farm figures. That will be a huge step forward."
Elmes' role also includes working with regional councils, so that when they shortly revamp their water quality plans, as required under the freshwater reforms, they understand what best practice looks like from a deer farming perspective. "It's better to influence the planners when they start work on their plans, rather than trying get them to amend their plans when the concrete has started to set."
Elmes would have liked to have met face-to-face with more deer farmers in the two months since she started with DINZ, but Covid has got in the way. But she will be using her location in Wanaka to work with southern deer farmers on their farm environmental plans, calculating their greenhouse gas numbers and possible mitigations. So if you farm in those regions, don't be surprised if you get a call.
Contact: sara.elmes@deernz.org, tel 027 699 5070
DINZ sharing the deer story: Farm economic analyst Angus Kebbell is having a look at the deer industry this month on interest.co.nz. Earlier this week he recorded an interview with DINZ chief executive Innes Moffat about the role of DINZ and the state of the deer industry, with an emphasis on the state of the venison market.
If you would like hear what they talked about, click here >>
It's well worth the listen.
Interested in an industry governance role? It's the time of the year when nominations are called for industry leadership positions. Vacancies in 2022 have been created by retirements by rotation, which means there are openings for anyone wanting to stand for a producer seat on the Deer Industry NZ board, the NZDFA Selection and Appointments Panel (SAP) and the NZDFA executive committee.
"The board and the SAP strongly encourage anyone who feels they could make a useful contribution to the direction of our industry, or who feels they know someone who could make such contribution, to put forward a nomination," says producer manager Lindsay Fung.
There are eight seats on the DINZ board, four of them appointed by producers and four elected by venison and co-product processors and marketers. Two of the producer seats are up for re-election. The successful candidates will be selected by the SAP which itself has three seats up for election. There are also four NZDFA executive committee membership slots, two of which are available for direct farmer election.
Nomination forms and constitutional information can be found here >>. If you are interested in standing and would like to speak to someone in confidence, please contact DINZ producer manager lindsay.fung@deernz.org, tel 027 688 0141.
Nominations must be received at the DINZ offices, info@deernz.org or fax 04 472 5549 by 5.00 pm Friday 25 March 2022.
Deer scientist honoured by the Queen: Former Invermay deer scientist and successful science entrepreneur Dr Peter Fennessy has been made an Officer of the New Zealand Order of Merit for services to agricultural science and business.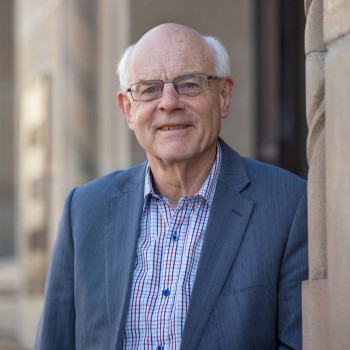 While he is known publicly today for his role as the founder of the agribusiness consulting firm AbacusBio and as director and chair of Blis Technologies, in the deer industry he is known for the huge contribution he made as a deer researcher in the 1980s. Many of his research findings are used every day to inform management decisions on deer farms across New Zealand.
Former colleague Ken Drew says Fennessy was a wise and vital contributor in most aspects of the deer research programme at Invermay Research Centre, as well as in his role of director of the centre from 1992-1997.
"He made major contributions to our understanding of seasonal appetite in deer as well as being totally involved in deer reproduction work, antler growth, breeding and genetics and many aspects of animal health."
Congratulations and thank you Peter, your award is richly deserved.
Higher OSPRI levies proposed: OSPRI is consulting with farmers about proposed increases in its levies and other funding. It needs more money in order to complete major work on the NAIT animal tagging and traceability system. That's so the system is much easier for farmers to use and so that it performs much better in a future disease outbreak than it did during 2017 Mycoplasma bovis outbreak.
OSPRI (which manages NAIT) will be holding public meetings that deer farmers are encouraged to attend. There is also loads of info on the OSPRI website >>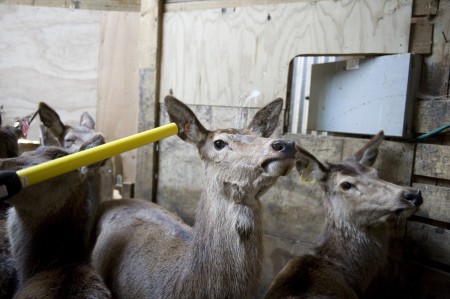 The proposed increase in the annual deer contribution is $200,000 – from $120K at present, to $320K in the next financial year. Unlike cattle farmers who pay their share of NAIT funding via slaughter and tag levies, the deer contribution is paid to OSPRI by DINZ from its levy income.
The NZDFA and DINZ are keen to hear from farmers about their views on the proposed increase.
"Along with other stakeholders we have for some time been stressing that the database and its interface is making compliance more difficult than necessary," says DINZ science and policy manager Emil Murphy.
"We support the work that is currently underway and recognise it will need additional funding. We have been urging OSPRI to ensure that costs are minimised and that the focus must be on improvements to the database, not on developing additional services that OSPRI feel might be of value to farmers."
Here are two videos from OSPRI explaining the background to the proposed increase.
Consultation overview >>
What will a deer farmer get from paying increased levies? >>
DINZ will submit on behalf of the deer industry, but you can also make your own submission through the link above. To ensure we have a system that works for deer farmers we need to hear farmer views. Please provide your feedback to emil.murphy@deernz.org
Is your Omicron plan ready? We are now in code red, phase 2 of the Omicron outbreak with cases spreading rapidly in the community. To find out what this means for you personally in your daily life and in your interactions with others, click here >>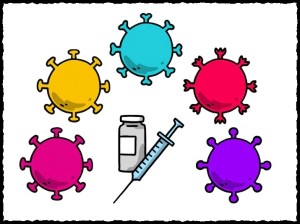 DINZ is a member of an industry working group set up to help prepare and support farmers dealing with COVID-19. The group strongly encourages farmers to plan for the 'what-if'. Plan not just for an infection in your family, or workforce, but for disruptions in the supply chain.
Plan for an infection in your household >>
DINZ also encourages farmers to have an 'On-Farm Survival Kit' containing supplies that may not be available when you want them. Things like veterinary medicines, stock feed, pipe fittings, fuel etc.
A good starting point for this is the on-farm COVID-19 checklist, which can be found here >>
Close contacts in your workforce? If you or one of your staff becomes a close contact under phase 2 they should be able to continue working if they are vaccinated and showing no symptoms under the 'Bubble of one' exemption, or under the 'Close contact exemption' scheme for workers in critical industries. For details, click here >>
Need help? If you need help on your farm because of Covid-19, please contact your local Rural Support Trust or 0800 FARMING (select option 3) in the first instance, or let the DINZ producer manager know, lindsay.fung@deernz.org, Tel 027 668 0141
2022 Deer Industry Conference in Wellington: At this stage, Covid levels willing, DINZ and the NZDFA are planning the annual deer industry conference on 10 & 11 May in Wellington. More details later.
North Otago deer farmers marketing their own venison: North Otago deer farmers Bryce and Janice Burnett and daughter Renata have taken their passion for the deer industry and venison to the next step – they're marketing their own venison under the Kauru Hill brand.
Last month they opened a stall selling their venison at the Oamaru Farmers Market where they were delighted with the response from the public. They are also keen to supply local restaurants and, potentially, expand further afield in the future. Their range of cuts includes French rack, tenderloin, shortloin, medallions and Denver leg, along with mince, which is being processed at a local supermarket butchery. The deer are processed at Mountain River Venison.
The family has been farming deer for 40 years, a deer-only operation with 750 hinds, based on Foveran bloodlines.
More >> Otago Daily Times
First Light venison at the World Expo in Dubai: First Light commercial manager Toni Frost has succeeded in getting First Light venison showcased, alongside other premium New Zealand food and beverage products, at the New Zealand Pavilion during the huge six-month event which ends on 31 March.
It's been a bumpy road getting there, but the rewards have been worth it. Now half way through Expo, Frost reports that while visitor numbers are down due to Covid, their calibre has been very high. She has noticed an increase in enquiries from customers in the Middle East, in particular, over the past three or four months which she credits to the World Expo activity.
First Light has been selling its range of venison and Wagyu cuts into the Middle East since 2016 and Frost says the company's ultimate aim from participation "was to gain some good growth in the region."
Farm benchmarking project gets publicity boost: Hawkes Bay deer farmers Wayne and Jacqui Anderson have featured in media across the country, following a major MPI promotion of its farm benchmarking project. The project, which we covered in last October's edition of DINZ eNews, will involve about 170 deer farms. They will be among 2500 farms across five sectors that will have their productive, environmental and financial performance benchmarked for the ministry.
Data from these farms – which will be anonymised – will provide a snapshot of performance across the deer, dairy, beef and lamb, arable and horticulture sectors over the next four years. Each farm that takes part receives a free Farm Environment Plan (FEP), valued at about $5000.
DINZ producer manager Lindsay Fung says data has so far been collected from 40 deer farms. Deer farmers who are interested in participating should contact lindsay.fung@deernz.org or Tel 0274 668 0141.
Back to Industry News