Apr 21, 2022

Spring peak schedule of $9.00/kg: A spring peak average venison schedule around $9.00/kg is being predicted by most of the venison companies.
It is "not an exact science," as Andy Duncan of Duncan NZ noted, "Uncertainty of currency and cost inflation means we can't be 100 percent sure of where it will go."
Venison companies are reporting recovery for the US and China retail markets and also for foodservice in North America and Europe. This has contributed to the higher prices and an optimistic outlook for Spring.
Underlying the guidance is more evidence the market recovery is underway. Farmgate prices for venison animals this week are 50 percent above last April's average national published schedule. These are between $7.95-8.05/kg, and, again, on par with the five-year national average of $7.96/kg.
However, it's a fine balancing act. Venison companies are wary of putting additional price pressure on their customers and stress the need for a steady build to sustainable prices, with Silver Fern Farms' Dave Courtney commenting, "We are wary of creating a non-sustainable boom-bust cycle with restaurant menu placement being a critical stability factor."
Much work is underway by the companies on market diversification, including growing the US and Chinese retail programmes. This is supported directly by DINZ through the Market Innovation Fund and Passion2Profit Primary Growth Partnership and DINZ staff working alongside venison companies to boost demand with the key accounts.
Venison companies are also working hard to get product to market amidst global shipping, logistics and Covid-19 disruption, along with uncertainty created by the war in Ukraine.
Strong demand for velvet continued to the end of the season: New Zealand Deer Velvet Coalition representative, Felix Shen, has been among the millions isolating in Chinese apartments over the past six weeks as a result of the Chinese government's lockdown of Shanghai and other provincial cities, as it pursues its Covid-19 elimination strategy. Something New Zealanders can sympathise with, notes DINZ manager markets Rhys Griffiths.
Griffiths reports Shen and his family have been undergoing regular testing. "They can now start to go out of the apartment, but they have to stay within a certain section of the quarantine departments."
With most of the 2021 velvet season production now in the hands of overseas customers, importers to China face stringent new Covid-19 measures affecting food processing. In contrast, in South Korea, restrictions are easing as Covid-19 cases increase. DINZ is monitoring the situation, along with what effect the Russian-Ukrainian war will have on trade.
The good news is that the reported strong demand for New Zealand velvet continued right through to the end of the season, Griffiths reports, with export values for 2021-2022 likely to be up 20-25 percent on the 2020-2021 season. Planning has already started for velvet season promotion activity in 2022-2023.


DINZ, NZDFA and SAP nominations received: Three nominations have been received for the two positions on the DINZ board, vacated by the retirement of directors Ian Walker and Mark Harris: Dr Jacqueline Rowarth (Waikato); Hamish Fraser (South Canterbury); and Dave Morgan (South Canterbury).
They will be making a short presentation about their proposed candidature at the 17th AGM to be held in Wellington on 25 May 2022. The NZDFA Selection and Appointment Panel (SAP) will make appointments before 1 July 2022.
Hawke's Bay deer farmer Karen Middleberg has been nominated for one of two vacant positions on the NZ Deer Farmers Association (NZDFA) Executive Committee, which had been created by retirement by rotation of Middleberg and current chair John Somerville. Rule 20.1 of the NZDFA Constitution allows candidates from a short-list to be approached to serve on the Executive Committee for the term running until the 2023 AGM.
With four nominations for three vacant positions on the SAP, a postal ballot will be required. Andrew Peters (Taihape), William Oliver (Waipa), Leith Chick (Waipa) and Graham Peck (South Canterbury) have put their names forward for the positions made available by the retirement by rotation of current members Paddy Boyd and Leith Chick and the extraordinary vacancy created by the resignation of Stephen Borland.
NAIT levy decision delayed: OSPRI has deferred its decision on the National Animal and Identification Tracing (NAIT) levy increases to mid-May 2022 to allow a more comprehensive review of the consultation feedback received.
"DINZ recognises the need for a robust system," notes DINZ science and policy manager, Emil Murphy. "We, along with individual deer farmers, B+LNZ and Dairy NZ really pushed hard to make sure NAIT delivers and OSPRI has a sustainable plan and investment strategy for the levies. We appreciate their listening to the consultation and pausing to make sure accountability and transparency is improved."
OSPRI sought feedback on proposed increases to the NAIT tag levy from $0.90 to $1.35 per tag, and the slaughter levy from $0.50 to $1.77 per animal. To maintain the 35:65 percent Crown/industry funding model, they wanted to increase Crown funding by $3.4 million a year to $5.54 million, explains Murphy.
"As deer farmers pay their contribution through DINZ, DINZ was formally approached separately by OSPRI to lift the deer industry funding by $200,000 a year to $320,000 a year," he says. "While we recognise there is a cost to building a better system, better accountability and transparency will be required before committing funds."
Formal consultation with farmers took place between 21 January and 25 February 2022, with 147 submissions made by levy payers, primary sector groups and collection agents.
NAIT understands farmers and industry found the livestock traceability system difficult to use and that it did not perform as expected during the 2017 Mycoplasma bovis outbreak. Work on strengthening the system had been largely funded through now depleted reserves and so an increase in funding is being sought to continue the work.
P2P – Eight picked for the 2022 Big Deer Tour: Eight keen young undergraduates have been selected to find out what makes the deer industry tick, and will head off on their DINZ 2022 Big Deer Tour between Tuesday 19 April to Friday 22 April.
They are:
Ella Zwagerman from Southland (third year Bachelor of Applied Science at Otago University majoring in Consumer Food Science)
Jessica Sime from Otago (Y3 Bachelor of Commerce at Lincoln University, majoring in Agriculture and Professional Accounting)
Harris Moana from the Waikato (Y3 Bachelor of Agriculture Science at Lincoln University)
Jeremy Kilgour from Canterbury (Y4 Bachelor of Agricultural Science with Honours)
Megan Ross from Northland (Y4 Bachelor of Food Technology Honours, majoring in food process engineering)
Sophie Ridd from the Manawatu (Y3 Bachelor of Agricultural Science at Massey University)
Holly Broom from Southland (Y5 Bachelor of Veterinary Medicine), and
Suzie Morrow from Central Otago, (Y3 Bachelor of Animal Science, majoring in genetics and breeding).
The octet will take part in the Big Deer Tour – part of the Passion2Profit Primary Growth Partnership programme – which will give them the opportunity to visit deer farms, processors and companies, as well as meet professionals providing services to the deer sector.
Previous alumni have gone on to work for meat companies, become marketers, rural bankers, vets, agronomists, many with deer farmer clients and some will have gone on to work on deer farms.
This tour is made possible by the Passion2Profit (P2P) programme, a primary growth partnership between Deer Industry NZ and the Ministry for Primary Industries.
From the archives – the growth of male red deer for slaughter: 50 years of deer science targeting growth rates is showing impressive results have been achieved.
AgResearch scientist Jamie Ward delved into the archives to find a 1975 research paper by three of the "Deer Science Godfathers" – Dr Ken Drew, Dr Peter Fennessy and Gordon Greer. They conducted an experiment to investigate castrated vs entire red stags grown on pasture for slaughter.
"It gives some early insights into stag liveweight and liveweight gains," says Ward.

The picture gives the ages and liveweights from that paper.
"Compare the 31.7 kg at three-months in 1975 with the 70.6kg average for red males at three months in Invermay's 2021 born across-breed connectedness (ABC) herd. That's 2.2 times heavier at the same age," he comments.
"Moving down to 16 months of age, our ABC red males average 79.4 kg at four -months of age, between the 16-month liveweights of the entires and castrates at a quarter of the age! From weaning to September, the entires averaged 46 g/day. Invermay's 2019 born red males averaged 3.7 times more (171 g/day) over the same period."
The paper concludes with "some great wisdom from the Godfathers," he says: "In the long term, the venison industry could steal a march on the sheep and cattle industry for efficient lean meat production by making non-castration the rule rather than the exception."
"How far we have come, and how lucky we were to have these people driving our industry science."
Reference: Drew KD, Fennessy PF, Greer GJ. "The Growth and Carcass Characteristics of Entire and Castrate Red Stags," Proceedings of the New Zealand Society of Animal Production 38, 142-144, 1978.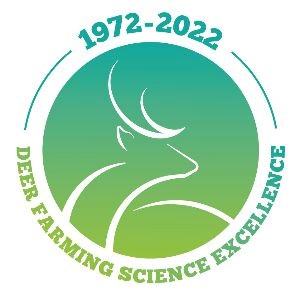 Announcing Wormwise's first manager, Ginny Dodunski: Well-known and highly experienced deer vet Ginny Dodunski has been appointed as manager of the Wormwise programme.
Wormwise is an industry-wide partnership overseen by Beef + Lamb New Zealand and involving DINZ, the New Zealand Veterinary Association and Ministry for Primary Industries. It provides farmers with the latest knowledge and techniques to effectively and sustainably manage worms and minimise drench issues – lifting productivity and the welfare of livestock.
DINZ manager farm performance Phil McKenzie welcomed the news, which he says will strengthen the deer industry's ongoing involvement with the Wormwise programme. Dodunski, who has worked for Totally Vets (formerly Manawatu Vet Services) since 1998, has a long history with the deer industry.
"Other good news is that she will be able to continue to facilitate the Waipa Advance Party for this sector," he says.
In her new role, Dodunski will ensure the programme's activity is linked up across researchers, industry, government, vets, drench companies and farmers. Her priorities over the next few months include building on the action plan across four key areas: education and engagement, incentivising farmer practice change, product stewardship and building data and testing. Raising the profile of Wormwise across the rural sector will be another important focus.
Keep up your own Covid-19 vaccinations: DINZ has updated its own Covid-19 settings in line with the government's. Remaining committed to providing a safe working environment for staff and guests, DINZ encourages all staff and contractors to maintain Covid-19 vaccination status as recommended by the Ministry of Health. It also encourages all members of the deer industry community to keep up with vaccinations. Guided by Ministry of Health on events, DINZ will no longer require visitors to the DINZ office to be vaccinated.

For events, DINZ encourages good hygiene and a continuation of attendees staying away if they exhibit any cold or flu-like symptoms. Mask wearing is encouraged, along with following the Covid-19 Protection Framework (traffic light) settings provided by the government. People should adhere to medical advice if they have recently tested positive for Covid-19.
The conditions of entry to any DINZ event will be determined by the venue host. Individual businesses are free to determine if they will allow non-vaccinated people onto their premises and DINZ respects the decisions of these venues. DINZ will not require attendees to be fully vaccinated to attend a DINZ-convened event.
Back to Industry News