Jun 17, 2022
Velvet exports could reach $200 million in the next decade
Exports of New Zealand velvet could reach $200 million a year over the next decade, DINZ markets manager Rhys Griffiths, told NZDFA Branch Chairs.
Velvet is a growing industry, with exports estimated to reach $120 million by the end of this 2021-2022 season, he told the gathering last month in Wellington. This is a doubling of production and a quadrupling of farmgate value over the last 12 years, he noted.
Covid-19 "continues to knock us for six" he said. This is because of the difficult supply chain conditions – "which will remain problematic for the foreseeable future" – the economic impacts of inflation, falling consumer confidence, lockdowns in China and temporary stifling of new product development, along with plenty of this season's unprocessed stock sitting in China.
However, in the medium-term, the overall outlook looks positive. More opportunities are emerging in South Korea's healthy foods market, where "companies are investing in 'NZ-ness' so need NZ velvet", NZ Trade & Enterprise workshops are helping New Zealand velvet to connect better with Korean consumers, and more innovative products are in the pipeline, like the newly launched Sooshin Energy Shot from New Origin.
In addition, China represents a significant opportunity for growth. Currently, consumption is natural and organic and entry to the market must be well managed, to replicate what has been done in Korea.
"Now is the time to own the position," he said adding velvet exporters are working within the China Deer Velvet Coalition to establish links with potential customers in the Chinese food sector.
Investigations are also underway in Taiwan, where Korean company KGC recently reported success for a second new velvet product. DINZ is also looking at prospects in Japan and Vietnam.
While there are still plenty of challenges, Griffiths believes: "If industry is successful in its ambitions, we could increase to at least $200 million in the next 10 or so years."
Venison still in recovery mode
Cutting through the data, DINZ venison markets manager Nick Taylor presentation to NZDFA Branch Chairs in May showed that while the venison recovery is going well, "we are still in recovery mode."
Despite the logistics challenges, the market diversification programme away from restaurants in Europe to retail markets in the US and China continues and is making headway, he showed.
"Companies are looking to build those markets with a long-term view," he reported.
Continuing challenges around Covid-19 lockdowns in Shanghai, and last-minute shipping delays and schedule changes, compounded by the war in Ukraine, have caused major headaches for exporters, who now face risks getting chilled product to market, especially in Europe.
In China, where promotion activities have had to be delayed or adjusted due to lockdowns, exports of venison lifted to around 340 tonnes in April – 750 percent more than April 2020.
There have also been increases in the number of high-value products heading to the US and Europe.
In the US, American diners have been reluctant to eat out, though numbers are now approaching pre-Covid levels and export value had picked up since February – "though still not quite where it was pre-Covid."
In contrast in Europe, everyone is now "out and about, enjoying life and spending time with family and friends," according to DINZ consultant chef Shannon Campbell, who enthusiastically reported to Branch Chairs by video.
With the continued expansion of new high-value products going into Europe, lower tonnages of venison exports to the region were seen "as a positive signal that value has been growing. Something I would be worried about is if tonnages are growing," said Taylor.
While export volumes to Europe are suppressed, the price at around $15.20/kg in April, was higher this year than it has been in either of the past two years, "but again still has a way to get to get back to pre-Covid levels," he noted.
Co-innovation the way forward for deer research
Deer industry innovation, presented at the NZDFA Branch Chairs conference was also on show at the AgResearch and Meat Industry Association Meat Innovation Workshop in Palmerston North on 31 May.
As part of the celebration of 50 years of deer science, AgResearch deer scientist Jamie Ward fronted up to around 85 scientists and representatives from New Zealand's meat processing sector to update them on the latest post-Covid news from the deer sector.
Ward explained how the Deer Science for Success (S4S) programme, that has been operating for the past two years, is bringing together venison and velvet research into one co-innovation programme.
The new way the deer industry is conducting research with AgResearch, "is an evolution of many, many years of research projects in the deer industry" and it also "offers increased leverage in terms of research capability and in thinking space for our products and our food products," he said.
He told the audience about the food projects underway under Deer S4S, including work started this year on velvet antler fatigue fighter, the metabolomic profiles of deer grazing seven diverse pastures and the compositional analysis of venison soft offals.
Ward also presented two historic case studies already familiar to deer farmers: the effect of palm kernel expeller (PKE) supplementation on venison quality in 2018-2019; and deep muscle bruising studies carried out in 2017-2019.
Presenting deer research to the wider meat industry was a useful exercise, Ward felt, and the start of building relationships with others in the research sector. He carried his messages through to the DINZ Road Show.
New improved VelTrak tags
The first season's use of the new tagging and tracing system for deer velvet went well, and new and improved tags are being issued for this season, but further improvements are on the way.
Over 340,000 tags passed successfully along the velvet chain from DINZ to vets, to farmers, to processors and finally into the market in the 2021-2022 season, reported DINZ general manager quality assurance Rob Gregory at the NZDFA Branch Chair's conference at the end of May.
The VelTrak tag has been improved for the 2022-2023 season, which farmers will get from their supervising vet practices from late-August onwards. This was based on feedback received in the first year, "some negative, but a fair bit positive, which was encouraging," he said.
The right-hand white section of the tag is now clear of any printing or laminate and has been extended to 8.5 centimetres.
In addition, three new adhesives were evaluated, with the highest performing chosen to replace the current glue. This improved adhesion two-fold, giving "greater confidence that the new tag will perform better in the field than the existing one."
The current tags are still valid and if there are any problems with the new ones, DINZ is working on a further back-up design, "which doesn't rely entirely on adhesive," said Gregory.
The language used on the Velvet Status Declaration (VSD) has also been changed, to make it easier to understand, while still being a legal statement of compliance, he says.
Plans for next season include working to secure MPI approval to further simplify the Velvet Status Declaration process. Gregory's point-of view is that the "tag is the declaration. It will be a major step forward if we can get this through."
Cantabrians needed to help educate regulators
Canterbury deer farmers have a chance to educate the regulators by becoming part of the Natural Knowledge project, the deer industry's part in MPI's large three-year 'Farm Performance Snapshot'.
Participating farmers receive an environmental plan and Overseer nutrient budget free of charge. An anonymised subset of this information goes to MPI to enable them to better understand farm systems.
DINZ, Beef + Lamb NZ, DairyNZ, FAR, and Horticulture product groups are all contributing to this snapshot, which will involve more than 2,000 agricultural and horticultural businesses across New Zealand. The deer industry is aiming to involve 167 farmers.
DINZ environmental stewardship manager Sara Elmes says while deer farmers from most regions have been recruited, some are still needed in Canterbury. She encourages any Canterbury deer farmers who would like to be involved to email sara.elmes@deernz.org.
Elmes says the Natural Knowledge Project helps farmers put the environmental aspects of their property in context with their wider business. Doing this "is a massive step," but it's a process that all deer farmers will need to tackle soon.
The project will also help MPI better understand today's farm businesses, when they are developing primary sector policies and regulations. This opportunity for farmers to anonymously contribute to educating the regulators, "should not be missed. Especially by any farmer who thinks such education may be lacking," says Elmes.
Proposed NAIT levy hike trimmed back
A proposal put forward in January to increase the tag and slaughter levies used to part-fund the National Animal Identification and Tracing (NAIT) programme was not well received by the livestock sector and on 1 June NAIT Limited announced a smaller increase.
It will instead revise its operational strategy under a reduced funding package "with an emphasis on delivering the core capabilities of a fit-for-purpose traceability system." Additional services will be delivered using a "staged approach".
Under the revised levy proposal, the Crown/industry funding split of 35/65 percent will be maintained and the deer industry's overall share of total industry contributions, collected by DINZ from product levies and passed to NAIT, will remain at the previously agreed level of two percent.
Effective 1 July 2022, the cattle tag levy will increase from $0.90 to $0.97 (the consultation proposal was $1.35) and the cattle slaughter levy from $0.50 to $1.49 (the consultation proposal was $1.77).
The Crown is increasing its contribution to $4.34m a year (from $2.14m pa), while the deer industry is increasing its contribution to $249,000 per annum, up from $120,000 (the original proposal would have increased the deer total contribution to $320,000).
DINZ chief executive Innes Moffat says DINZ provided strong feedback on the need to improve the accuracy of animal records and for a focus on core services. DINZ will absorb the increase for the remainder of this financial year, and then adjust the venison and velvet levies to cover the increased deer contribution from 1 October this year.
New Zealand deer milk wins international dairy award
Deer milk sourced from Peter and Sharon McIntyre's farm in Southland and Pāmu's Aratiatia in the North Island's central plateau for Pāmu won an award in a prestigious international dairy competition.
Pāmu's Deer Milk was up for two prestigious awards at the World Dairy Innovation Awards awarded this week in Laval France. Alongside winning the Best Dairy Ingredient category, its new world-first Doe Nutrition product was also highly commended in the Best Functional Dairy section.
It is a validation of the hard work that has gone into creating an all-new product for the agri-sector, says Pāmu chief executive Mark Leslie.
"Our deer milk product has been steadily growing in popularity among high-end chefs and as a unique new ingredient in cosmetics, currently sold exclusively through the Yuhan New Origin stores in Korea. These nominations recognise the extensive application and unique properties of deer milk," he says.
The company is excited about the potential for deer milk and the opening of a new milking facility near Taupō to complement existing supply from the McIntyre's is testament to that, says Leslie.
The growing recognition of Pāmu deer milk's unique properties, especially when it comes to nutrition and digestion, signals it has the potential to be a contributor to New Zealand's primary sector, he adds.
More information here www.doenutrition.com.
Trophy hunters return, along with potential risk
The return of overseas hunters to our trophy parks and game estates will be welcomed with a sigh of relief by park and estate operators. Covid travel restrictions have meant two very lean years.
But in welcoming hunters back, DINZ science and policy manager Emil Murphy says it's important to remember that anyone who has been hunting in North America may have been exposed to chronic wasting disease (CWD). It's an incurable, fatal condition that's spreading through wild and farmed deer herds in the USA and Canada.

He says it's never been detected here and it's critical we keep it that way. The CWD agent can be carried on hunting and camping gear, and clothing. It is resistant to all cleaning methods. So if people are hosting visitors from North America, Murphy strongly recommends they are provided with New Zealand-new kit before they venture out onto deer farms or trophy blocks.
Murphy is working with Biosecurity NZ on the government-industry agreement for dealing with CWD if it ever breaches New Zealand's borders. One part of this is the possibility of setting up a New Zealand laboratory so it can run the RT-QuIC test for CWD developed in the United States. This would speed-up testing, but it would mean importing CWD reference samples to New Zealand – a risk that Murphy believes outweighs the benefits.
Read the DINZ Exotic diseases Deer Fact sheet >>
Read a news report from North Carolina, USA, where the CWD has just been detected
Thanks for talking to us
A big thanks to the many deer farmers who took part in two telephone surveys carried out recently for DINZ, one about industry communications and the other, by CINTA, about farm management practices. We greatly appreciate the time you gave to our callers – we know that 'not enough minutes in the day' is a reality of life for many deer farmers.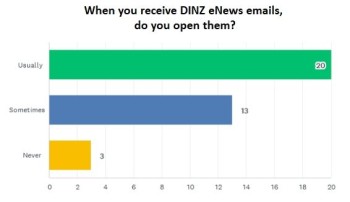 The fact that you have read this far tells us you are one of the 63 percent of deer farmers who always or sometimes opens the DINZ eNews emails. We also know you are more likely to be aged under 60 than over – DINZ eNews was read by 100 percent of those aged 31-40 we surveyed, but by only 38 percent of those aged 60-plus.
The information and insights DINZ gets from these surveys is hugely important when we are planning our work with and for deer farmers, as well as finding out how best to communicate with them. The CINTA survey had input from 600 deer farmers, who are positive about the knowledge and advice provided by DINZ.

As a 'thank you' for the time and information freely given by farmers DINZ is making a substantial donation via the P2P programme to the Rural Support Trust.
Back to Industry News