Nov 17, 2022
Click a heading below or scroll down to read
Korean customers first to be introduced to Nature's Superpower™
Korean customers and media were the first in the world to be introduced to the new Nature's Superpower story, during a visit from DINZ chief executive Innes Moffat and manager markets Rhys Griffiths early last month.
The duo had a good response to the initiative from customers, and some are already working out ways to include the story strands into their marketing campaigns for New Zealand velvet products, reports Griffiths.
Moffat and DINZ board member Tony Cochrane, who was independently visiting Korean contacts at the time, took the opportunity to brief a number of media about the initiative. They spoke to the Seoul Economic Daily, Korean Medicine Doctor magazine AKoM News and a health speciality news channel Kuki Health TV.
The new business-to-business Nature's Superpower narrative will strengthen the marketing of New Zealand velvet in Korea, which still has "huge potential", Moffat told Seoul Economic Daily.
"Consumers have begun to recognise the benefits of deer velvet in terms of enhancing vitality and immunity during the Covid-19 crisis over the past two years, and demand is growing accordingly," he is quoted as saying.
Two sides to the velvet market
There are two sides to the current velvet market, reports DINZ markets manager Rhys Griffiths.
The season started with a couple of companies supplying contracts for reasonable volumes and at prices similar to last year.
On the one hand, good demand has been reported from Korea particularly from food manufacturers, especially for SAT grades, he says. Accounting for around 60 percent of consumption, Korea is still the largest consumer of New Zealand velvet and represents good potential, even with competition from Russian velvet providers.
Many New Zealand exporters have recently engaged in face-to-face meetings with their customers, either in Korea or here in New Zealand.
"It's been awesome to see recent reciprocating visits from Korean customers to this side of the world," says Griffiths.
However, this contrasts with conditions in the other major market China, where "traders have been holding off a bit more".
This is due to the continuing Covid lockdowns and economic uncertainty, he says. It adds to problems of physically getting to the north-east region of the country to buy velvet from the processors, who are mainly in that region. It has also put a handbrake on new product development and R&D by food companies that have shown an interest in developing contemporary products, such as those available in Korea.
"While there are still one or two buyers active in the market, they are simply not as engaged at the moment," he says.
New Zealand deer farmers responded well to the early market signals for SAT grades, which have sold well. Farmers, currently in the middle of velvetting, should keep in close contact with their processor on the dynamic market conditions at this time of year.
New Zealand foodwriters get a taste of venison
New Zealand's foodwriters had a taste of New Zealand venison at this year's Guild of Food Writers annual conference, which took place in Auckland from 7-9 October.
New Zealand venison sponsored the gala dinner at the Auckland University of Technology (AUT) with venison featuring in the main course and information available for the foodwriters.
DINZ executive chef Graham Brown was one of three top chefs guiding the preparation of the five-course gourmet dinner by second-year AUT students. He was joined by Geoff Scott of Vinnies restaurant in Herne Bay and chef tutor Alan Brown.
From the deer science archives: diseases that now cause less dis-ease
You got livestock: you got dead stock. That is a part of farming, but with a new animal behind wire came new or different presentations and pathology of diseases. Science was critical in understanding these diseases and finding methods of control.
There are many excellent sources of papers on this including NZVA Deer Branch Proceedings and the New Zealand Veterinary Journal, but so many of the early disease stories are covered in Biology of Deer Production 1985. The recognisable New Zealand veterinary scientists and pathologists include Wilson, Towers, van Reenen, Mason, Beatson, Mackintosh and de Lisle.
The diseases tackled include post-capture myopathy, MCF, TB, lungworm and yersiniosis, the big challenges in the early days.
Three papers involved Paul Mason and lungworm. Mason first published on the topic in 1979. The papers covered the lifecycle of lungworm in deer, how to detect it, the development of immunity in deer and, importantly, how to control it – lungworm in deer did not respond to the same anthelmintics the same way as they did in cattle. In deer, the most recognisable efficacious drenches included oxfendazole and an "experimental" ivermectin, the least effective was levamisole.
"Through good veterinary science, we have learned to manage, or control many diseases – any one which could have several stifled the industry," says AgResearch senior deer scientist Jamie Ward. "We owe a lot of thanks to those early scientists and the quality of their science which is still standing the test of time today."
The three papers are:
Mason PC. Biology and control of the lungworm Dictyocaulus viviparus in farmed red deer in New Zealand. Biology of Deer Production. The Royal Society of New Zealand, Bulletin 22, 119-121, 1985

Mason PC, Beatson NS. Anthelmintic activity against Dictyocaulus viviparus in farmed red deer. Biology of Deer Production. The Royal Society of New Zealand, Bulletin 22, 127-129, 1985

Mackintosh CG, Mason PC. Anthelmintics and lungworm in red deer. The Royal Society of New Zealand, Bulletin 22, 131-133, 1985.
On-farm biodiversity: "Just start"
"Just start" was the advice given to Fiordland Deer Industry Environment Group (DIEG) members meeting for a biodiversity field day in mid-October, by long-standing farm biodiversity expert Mark Sutton.
The group met at Pāmu's Mararoa Station, near Te Anau – a 5,500-hectare venison-focused farm running 4,000 hinds over 1,950 ha, alongside sheep and cattle – to see the progress made in biodiversity at the station over the years. Farm manager Matt Canton hosted the group which, after an initial discussion at the farm headed out to view five sites: two regenerated tussock valley floors; a long riparian site; pond/wetland area; and a fenced off waterway on the flat.
Long-standing QEII and Waiau Trust manager, Mark Sutton, has been involved in Mararoa's projects over the last 20 years. He was able to give some valuable insights into what is possible and things to look out for. His advice was to "just start" and let the project unfold over time.
"You've got think long-term and got to give it time," he said. "We're not here forever so what we do now really matters."
Keeping a track of progress with some photo points set up and regularly tracked will help show the progress. After a few years, that becomes motivating to try other things, he noted.
VelTrak: Don't use the old blue tags
DINZ has picked up that a small number of farmers are still using the old blue tags from a few seasons ago, which do not have RFID chips, to tag their velvet this season. DINZ is reminding velvetters to only use the BLACK RFID chipped tags for the traceability/VelTrak tracing. Last season's black tags are still eligible but not the blue ones.
Contact for further information: DINZ quality systems administration Pam McLeman, pam.macleman@deernz.org, DDI 04-471 6114.

New summer intern with DINZ: Katie Preston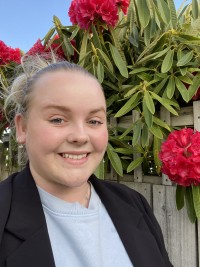 Otago University BSc microbiology student Katie Preston will be working with DINZ as an intern for 10 weeks over summer, to help out on a project focused on what deer farmers will need in the future.
It's all part of a collaboration between DINZ and AbacusBio, supported by MPI. Preston will work closely with Megan McCall of Abacus Bio, DINZ DeerPRO manager Solis Norton and deer farmers on a DINZ Farm Performance project, "Meeting the future needs of deer farmers."
"It is great that we are able to offer opportunities to build experience in the deer industry and also to be able to secure help from someone with Katie's ability to help out," says DINZ farm performance manager Phil McKenzie.
"A win-win all round."
Looking for governance experience? DINZ board seeking 2023 observer
The Deer Industry NZ board is seeking a board observer for 2023, which will give the right person a boost early in their career.
Expressions of interest have just opened for this personal and professional development opportunity that will give an individual early governance and leadership experience in an exciting and passionate industry.
The chosen observer will attend and make contributions to DINZ board meetings over a 12-month period. Institute of Directors training will be offered, at DINZ expense, on completion of the term.
Candidates should, ideally, have interests in the farmed deer sector, either through ownership of deer or employment in the production, processing or marketing of farmed deer products, or related industries.
Applicants should submit an expression of interest to DINZ chief executive Innes Moffat innes.moffat@deernz.org before 9 December 2022.
Recipe: Venison Sausage Roll Wreath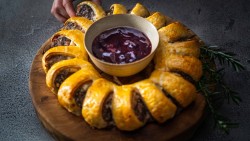 Get ready to impress the neighbours!
How about these decadent venison sausage rolls from fresh.co.nz for your festive gathering? The venison mince sausage is wrapped in bacon for extra deliciousness. Dip the freshly made rolls into blueberry chutney.
Events
Click on the bold links below to get more information about any of the events.
DINZ/B+LNZ 'Know Your Number' GHG Workshops – various locations to 8 December 2022. Contact: Megan McCall mmccall@abacusbio.co.nz, phone 027 207 6074.
2022/2023 Stag, Hind and Wapiti Bull Sales – 7 December to 17 January 2023, various times and locations.
Velvet competitions
Velvet competition season is here and there are a flush of events around the country to get involved in and attend from now through to February 2023.
Central Regions & Taihape Velvet & Hard Antler Competition – Saturday 19 November, 5.00pm – 11.00pm, The Coach House, Feilding. Contact: Craig Hocken chocken@inspire.net.nz, phone 06-328 7702 or 027-4576 388.
South Canterbury/North Otago Velvet and Hard Antler Competition – Phar Lap Racecourse, Timaru, Friday 25 November, 6.00-10.00pm. Contact: Brad Travers, btravers@hotmail.co.nz, phone 021-244 2265.
North Island Velvet Competition 2022 – Waipa Racing Club, Racecourse Road, Te Awamutu, 5.00pm-10.00 pm, 26 November. Cost: $70, includes dinner. Contact: Craig Hocken, 027-457 6388, email chocken@inspire.net.nz
Nelson/Marlborough Velvet Competition – Wye Hills, Marlborough, Sunday 4 December, 11.00am-4.00pm. Contact: Jason Rentoul, wyejase@hotmail.co,nz

, phone 027-712 1064.

Kaipara Deer Farmers Velvet Competition 2022 – Sheerwater Deer Farm, Sunday 4 December, 11.30am, Enquires to Ian Bristow 094202852 or Dave Chisholm 094207058
40th National Velvet and Hard Antler Competition – 14-16 December, Ascot Park, Invercargill. Contact: southlanddeerbranch@gmail.com

,Bruce Paterson 027-344 3629.

Elk Wapiti Society of New Zealand Velvet Competition – Heritage Lake Resort, Cromwell, Friday 3 February 2023, 10.00am – 5.00pm. Contact: Grant Hasse, elkwapitinz@gmail.com, 027-224 5542
Rising Stars 2023 – Te Awamutu, Friday 25 February 2023. Contact: Helen Clarke, Campbell.clarke@xtra.co.nz.
Back to Industry News