Mar 18, 2022
The United Kingdom appears to have a lot going for it as a potential market for our venison. A heritage of wild venison consumption by the upper classes and those brave enough to poach their herds, plus established red meat supply chains from New Zealand.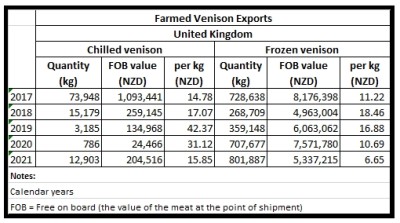 In practice, building and maintaining strong customer relationships has proved challenging for our marketers. Successful retail supply contracts established with Marks & Spencer and Waitrose in the early 2000s fell over a few years ago when both retail chains decided to stock only locally-raised meat.
Large fluctuations in export statistics for both quantity and value (see table), reflect the come and go nature of UK venison demand – a pattern that has been amplified by the impact of Covid on food service.
Despite this history, our marketers are continuing their efforts to gain traction in the UK. In late February Alliance Group partnered with the NZ Beer Collective (NZ brewers who export to the UK) to celebrate New Zealand Beer Month, with a closing party held at the NZ High Commission penthouse suite in London.
To tie in with the beer theme, Alliance provided food that had a nod to beer and beverages, such as venison loin in a miniature martini glass. Each of the dishes was paired with a beer from NZ Beer Collective's range.
DINZ consultant chef Shannon Campbell talked to the guests about what makes NZ venison so special, including the free-range disease-free environment in which it is raised and the high quality assurance standards of the industry – a point he emphasised by serving the 120 guests venison tartare and venison sushi.
The guests included the NZ Trade Commissioner, a wide range of high profile customers and prospects for both Alliance and the NZ Beer Collective.
Alliance venison marketing manager Terry O'Connell says there are many opportunities in the UK, including gastropubs that have the potential to take very large volumes of product. But these outlets are only now getting back into business after the worst of Covid.
He believes the segments with the greatest immediate potential are Hello Fresh meal kits and white tablecloth restaurants.
"We've been experimenting with Hello Fresh in the UK, working out what works best – which recipes, which cuts, the right portion size and so on. Sales were slow to start, but they're now getting better every day. It looks very promising," he says.
"With many home cooks the fear of failure puts them off trying something new. Meal kits overcome this by providing every instruction a cook would ever need. Our job is to give them a great meal experience, so they keep coming back for more."
On the food service front, Alliance is adding venison as an extension to its 55 day aged premium handpicked lamb and beef range, which is winning favour among top-end chefs in the UK.
With beef and lamb Alliance uses excellence in product quality and the free-range NZ farming story to overcome the inclination of many chefs to buy local. This will also be the case with venison, which many UK chefs associate with wild deer shot in the Scottish Highlands.
"Heritage is a big sentiment to overcome. But NZ farm-raised venison is a hands-down superior product. Consistent high quality, tender and able to be used with outstanding results in a much wider range of dishes and cooking styles than venison from an animal of unknown age, shot in the wild.
"Chefs as much as home cooks need to have confidence that they are going to get a great result every time. It's a very strong selling point."
Back to Industry News